Nominations open for the 2017 Family Friendly Museum Award.
The award is the biggest museum award in Britain – and the only one where families decide the winner.
Have you and your family enjoyed your visit to the Dylan Thomas Exhibition? Do you think we're the most family friendly museum in the area? Then nominate us – and get others to do so. Let's put our family friendly museum on the national map.
Nominations can be made by anyone – children, parents, visitors, and visitor organisations.
What matters most is that it goes that extra mile to provide an excellent family friendly experience.
How to make a nomination
Tell Kids in Museums why the Dylan Thomas Exhibition is so special. What is the welcome like? What really stands out in the family offer? Kids in Museums want to hear all your museum stories.
Take a look at the Kids in Museums Mini Manifesto. How does the Dylan Thomas Exhibition match up to the Mini Manifesto's 8 points on how to make a museum family friendly?
This year Kids in Museums have created an online form to make it quick and easy to nominate your museum. If you are not able to complete the online form, they can accept nominations by email or post.
Email: award@kidsinmuseums.org.uk and tell them why you think the Dylan Thomas Exhibition should win.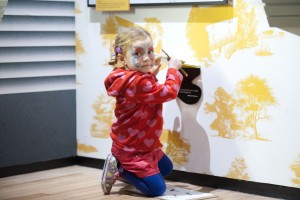 Post: Family Friendly Museum Award
Kids in Museums
CAN Mezzanine
7 – 14 Great Dover Street
London SE1 4YR
Deadline for nominations is noon on 2 June 2017.
Why not tweet that you've put in a nomination, mentioning @kidsinmuseums#FFMA17
What happens next?
A group of volunteers sifts through all the hundreds of nominations and whittles them down to a shortlist. The shortlist will be announced on 22 June 2017.
Over the summer, the shortlisted museums are road-tested anonymously by families, using the Kids in Museums Mini Manifesto as a guide to their family friendliness.
The winner will be revealed at the Award Ceremony. Last year KidRated were on hand at the ceremony to film the occasion and interview the shortlisted museums. Watch this film to hear how much being shortlisted means to museums and the difference the Award can make:
This post is also available in: Welsh